Saudi's 83rd National Day Celebrated in Seoul
National
Saudi's 83rd National Day Celebrated in Seoul
Amb. Ahmad Y. Al Barrak Hosts Reception at Shilla
By Megan Fox
Staff Writer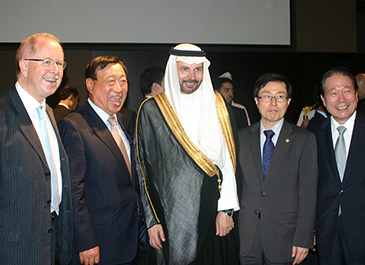 Saudi Ambassador Ahmad Y. Al Barrak (center) poses with Science Minister Yoon Jong-Lok (2nd from right), former Foreign Minister Yoo Myung-Hwan (right), former Minister of Industry Lee Hee-Beom (2nd from left), and The Seoul Times President Alan Timblick at the reception held by the Saudi envoy at Shilla Hotel in Seoul on Sept. 23, 2013 on the occasion of its 83rd National Day.
Ambassador of the Kingdom of Saudi Arabia to South Korea, Mr. Ahmad Y. Al Barrak, hosted a grand reception at the Shilla Hotel in Seoul on Sept. 23 (Monday), 2013 on the occasion of its 83rd National Day.The anniversary marked a significant time for the kingdom as the comprehensive development renaissance, that is based on the foundation created by His Majesty King Abulaziz Bi Abdul Rahman Al Saud, continues to expeditiously grow. The lunch reception was participated by hundreds of high-profile guests including scores of top foreign envoys posted in Seoul.The Kingdom of Saudi Arabia has seen achievements and successes throughout all facets of the country. The kingdom contributes their successes to the founding king who put in place intellectual, institutional and management foundations. Successors of the king, are steered by his ideas helping the country to succeed in the rise of living standards, quality of life improvements, comprehensive construction and economic and social services throughout the country. Saudi Arabia is one of the most appealing investments destinations in the Middle East. This can be attributed to the modernization of its administration and the development of procedures and regulations. The amount of foreign investments in Saudi Arabia has increased significantly. The kingdom focuses first on its people, this being the countries ultimate goal. Their human resource policy is consistent with the Kingdom's renaissance in comprehensive development. There is special interest in the countries health care which directly corresponds with regard to training and education. Diplomatic relations between the Kingdom of Saudi Arabia and the Republic of Korea were established in 1962. Relationships in political, economic, cultural, educational ,military, and health continues to develop between the two countries. The relationship is distinguished through honestly, sincerity and strong commitment.
In 1974 the Embassy of Saudi Arabia opened in Seoul. This marked the first Arab embassy in Korea. Former President Lee Myung-Bak described this relationship as being "full of singularity." Many contracts to develop projects, based on the needs of Saudi Arabia, have been established through this relationship. The Saudi-Korea Joint Committee commits to building a comprehensive bilateral cooperation fulfilling the needs of both the Kingdom and Korea.